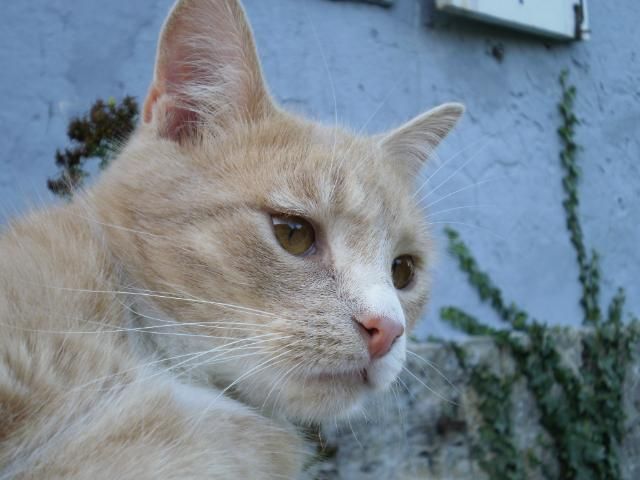 During the long winter evenings our cat, Charles Le Baron du Breuil, can be found each night curled up as close to the fire as possible. Even during the summer he rarely stays out overnight. Having only three legs means he never travels far as, with constant 'hopping', he tires quickly.
For the last few nights the temperature has plummeted and everywhere is covered with a thick heavy frost in the morning but, at the same time, the days have been sunny which melts the icy frost quite quickly.
Yesterday afternoon I sat at my desk and watched three rabbits tearing round the field chasing each other like lunatics. It made me feel Spring must be on the way - but then it began to get dark late in the afternoon and the cold returned.
Around seven o'clock last night Charles disappeared through the cat flap for his usual 'last promenade', before returning and settling down by the log burner.
By 11pm however he had not returned so I put my head out of the back door into the icy blast and called him in. Nothing at all!
We went to bed around midnight but before retiring I went outside and called him again but still no sign of him. It was getting towards freezing by then - and I knew that I would be restless and unable to sleep until he was safely back home.
At 2am I went downstairs armed with a torch and with Diggers, my faithful Jack Russell, sleepily trailing behind me. I put my coat over my pyjamas and walked into the garden calling out Charlie's name. It was like a silent Winter wonderland - quite surreal really
I have always had this terrible fear of one day finding Charles run over in the lane by one of the hunters' vans so off I walked up the lane into the pitch black. It may be a silent track here that leads past the chateau to the marsh but the hunters tear down here like a race track in their haste to get to the hunting lodge ( or drinking den I suspect!)
I did have a slight panic as I approached a lump lying in the road but was relieved to see it was a clump of hay which had fallen from a farm trailer. I shouted out again as loud as I could and the only reply I got was from a couple of owls so I returned to the house.
I went back to bed with the worst thoughts in my head. Had he got caught in a hunter`s snare? Had he been injured? Was he stuck up a tree? Had he injured his one 'good' back leg and was unable to hop home? Had he travelled further away than he had intended and was too exhausted to get home? Had he hopped into a hunters van whilst the doors were open and been carried away to who knows where?
The clock struck 4am and I was back outside in the cold calling out his name. I shouted so loud in the still night that the dogs way across the marsh barked a reply. I strained my ears for the slightest 'meeow' - but nothing. A few years ago when Digger's hearing was still good I could have relied on him to point me in the right direction. But now that he is very deaf he was no help - so I trailed back to bed.
At 7am I got up, dressed warm , grabbed the torch and set off again into the dark. This time even Diggers didn`t join me.
I walked all the way to the top of the lane, walked the garden again and finally stood on the entrance to the marsh and shouted his name. I then thought I heard a very faint 'meeow' that seemed to be coming from the disused farmyard next door. At first I thought I had imagined it but then I heard it again.
I went onto the yard and called again and I heard again faint meows and frantic scratching. There is an old cottage on the farmyard which the farmer occasionally uses to store his tools - and the noises were coming from that building. Charlie had obviously gone in there and the farmer, not realising he was in there, had effectively 'locked' him in. As I walked up I saw to my horror that it had a padlock on the thick chain.
My poor boy had spent the whole freezing night trapped in that old stone building and I knew that I would have to force the lock if necessary to rescue him. To my utter joy however the farmer had closed the padlocked but had not pushed the clasp down to lock it. I took the chain off, opened the door and out shot Charlie - straight into my arms!!
He clung up close to me, like he was hugging me. as I carried him home. For those of you reading my blog who know Charles well you will know how 'independent' he can be - and how unusual it is to be able to get any semblance of affection from him!!
So......... after taking an early breakfast of tuna he hopped upstairs and joined us, lying on top of our quilt.
And now, as I type this, Charlie is cuddled up next to my keyboard, content and fast asleep. Panic over!!
And so I could concentrate today on this coming weekend........
I've been feeling feeling absolutely overwhelmed by the number of boxes I've acquired from attic clearance over the last 12 months or so. So....an executive decision was made - and this Sunday will see me at the Shepton Mallett Flea Market held at the Bath and West Showground having a clear out! I have decided that I am absolutely not bringing anything back home!!! There really is a huge number of items - ranging from a chateau cushion to an oil painting!
We had originally intended to have an outside pitch and simply put the boxes out for people to rummage through but rain is forecast for Sunday all day - so I have booked two stands indoors instead.
Wish me luck!!
Bon weekend mes belles
xxxx