So what do you call a gathering of gondolas? A "gondle".....a "paddling"?....perhaps a "gaggle"?
I adore Venice despite its few shortcomings! I dislike, for example the multitude of shops, seen everywhere, selling Murano glass in bright, gory shades........... but adore the odd gold foil 18th century pieces on view that are never for sale.
I hate the mask shops selling tacky, mass produced carnival masks..... but adore the traditional theatrical mask makers who produce the most amazing mysterious creations.
But as cliched as they are the gondolas and gondoliers fascinate me.
I can`t say I have ever had the urge to be "gondled" (!) - but I do love to sit at a cafe in the sunshine beside the Grand Canal watching people precariously trying to get in and out of them. Lots of wobbling, panicking, shouting, almost going overboard ....and grasping for anything available on shore to gain a little stability!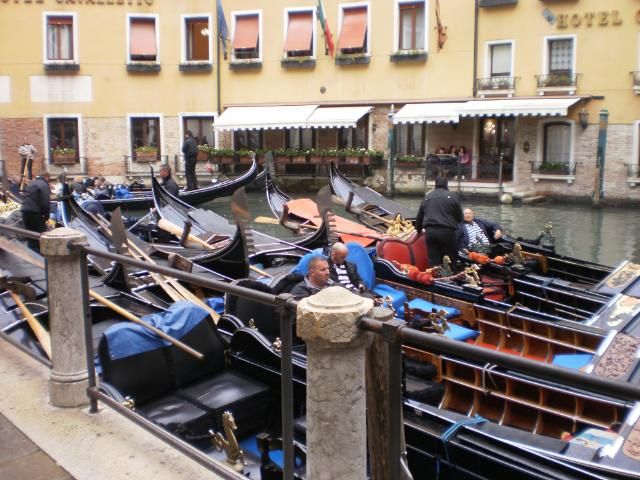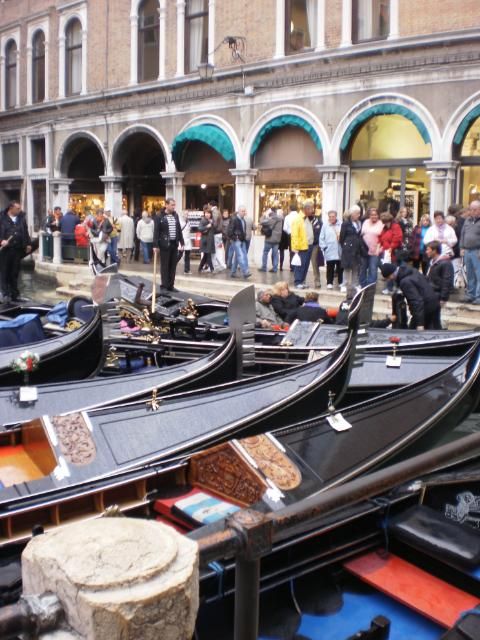 I particularly love the gilded embellishments...............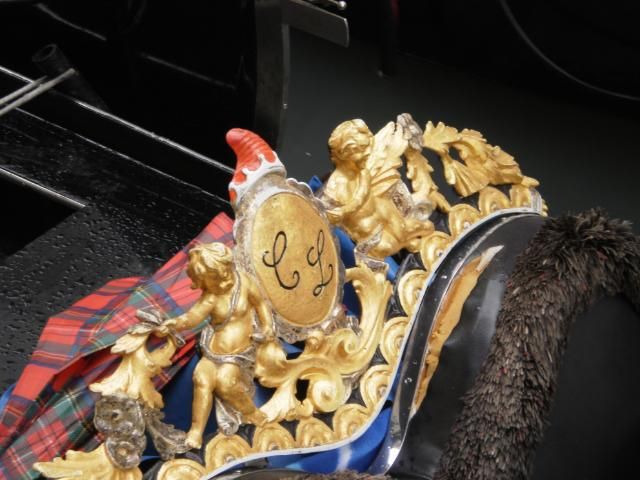 .......they fascinate me and I have to stop and stare!
Although I have no desire to be gondled... and refuse to do it .. I have, however, taken to the water in the 'traghetto'. Similarly shaped to a gondola they take passengers directly across the Grand canal from one bank to the other and are rowed by two oarsmen, not the traditional one. These gondolas have no fancy silk damask chairs or cherubs The locals, who use them as we would a bus - to go shopping,travel to work, or perhaps visit friends - invariably stand up for the short 4/5 minute trip. I most definitely did not stand but gripped on for grim death - but I was most impressed by a very elderly lady who stood carrying a shopping bag laden with vegetables in each hand without having the slightest wobble, even though the canal water was quite choppy. She must have been Venetian born and bred and it obviously came second nature to her.
Gondoliering has always been a very male Italian macho profession with the right to work as a gondolier being passed down from father to son - a job filled with tradition and history as the first gondoliers appeared in the Venice waterways some 900 years ago.
In the 17th and 18th century when Venice was at its most decadent there were eight to ten thousand gondolas in operation, each highly embellished and most with a "felze", a silk-lined cabin to protect passengers from the weather or from prying eyes! Its windows could be closed with louvered shutters - the original "venetian blinds", and no doubt well used by Casanova himself whilst romancing some fine lady!
Today there are around 400 gondolas and Venitian law decrees they should be painted black - and that law even applies to the now rarely seen 'wedding gondola'. This gondola is highly decorated with gilt and the gondoliers are allowed to wear a white uniform with gold trim.
All of the gondoliers working the canals today are male - except one. The daughter of a retired gondolier has fought a hard battle to become the first female gondolier in Venice. Giorgia Boscolo, 23, overcame one of Italy's last all-male bastions and become a certified gondolier after passing the city's exhaustive gondoliering course.
Two other women had enrolled on the same course as Mrs Boscolo's - a course which consisted of 400 hours of instruction, but neither made the grade. One of them has since accused the Venice Gondola Association of being sexist and of deliberately blocking her attempts to join - but the Association said she was simply not good enough!
I love this quote from a local newspaper:
"Her (Miss Boscolo's) new qualification will enable her to make a decent living. The rate for an evening gondola tour of Venice is 100 euros (£92) for 50 minutes, with each additional 20 minutes costing 50 euros."
Her father, Dante, said he was proud of his daughter but was still unsure whether women were up to the task of a profession which has been handed down from father to son since the 11th century.
"I still think being a gondolier is a man's job but I'm sure that with experience Giorgia will be able to do it," he said.
Local talk reveals that she has had a hard time, with her fellow gondoliers unwilling to move out of her way and making her work as hard as possible. I did look out for her but never spotted her. I wonder if she is made to paddle some quiet backwater to pacify her?!! Had I found her I would have finally taken that Gondola ride as a matter of principle - and would have demanded to be paddled right down the centre of the Grand Canal at rush hour!!
A la prochaine mes belles..............or should that be Ciao or Arrivederci?