Early morning and we were on our way to a huge trade brocante in Avignon. It was only just turning 7am but we knew that it was going to be yet another dry, hot, airless scorching day. I knew that we would be unable to park anywhere near the sellers and would have a good 20 minute walk to the brocante itself. I told Mark that I was not going to buy anything huge that day but, instead, would restrict myself with easy-to-carry treasures.
I started as I meant to go on and I had acquired a wonderful haul that we were managing to cope with quite well in our large bags and in that heat - and then I saw them; a pair of enormous cranberry-red coloured period velvet drapes with stunning passementerie tassels. I couldn`t stop myself and of course I asked the price - and that was the end of my good intentions.
The seller told me that they were longer than 5 metres in length, that he had other pairs in his van parked outside - and that they had come from Le Palais Royal de Bruxelles. We followed him to the van ( at the same time noticing that his number plate was a Belgian plate, giving at least some credence to his story!) and he opened the back door for us to see the remaing pairs he had for sale. That was it....deal done...they were mine!
Then as we set off in the heat again I realised that we had no means of getting them to the car and buyers were not permitted to enter the ground with a vehicle until a good three hours later to pick up any purchases.
Mark could just about manage to gather in and carry all the textile of just one curtain in his arms and with each weighing, he guessed about 20 kgs and there being a few pairs we resigned ourselves to a long wait before we could go in and collect them.
But who should then swing past? None other than good old Jose, a freelance porter who helps buyers transport their large purchases back to their vehicles . I immediately went to get the car and tried to park as close to the outer gate as possible whilst Mark and Jose went to load up his large hand cart with the curtains. The 30 euros we paid to Jose was worth every penny and we filled the car to the brim with the luscious red velvet hoard.
Back home in Normandie we laid them out on the lawn but soon realised that we had no way to photograph them to show them at their most magnificent. Then we were saved by the marvellous owners of a local chateau, La Manoir de la Maillardiere.
This divine chateau built in 1665 is steeped in history and not only that it is also currently up for sale. I think it is probably the only place I would consider leaving 'Le Petit Chateau' for! It is an incredible building with amazing period features, stunning grounds and , on top of that, an incredible history. I could have photographed it all day and I still wouldn`t even have shown a morceau of how wonderful the place is!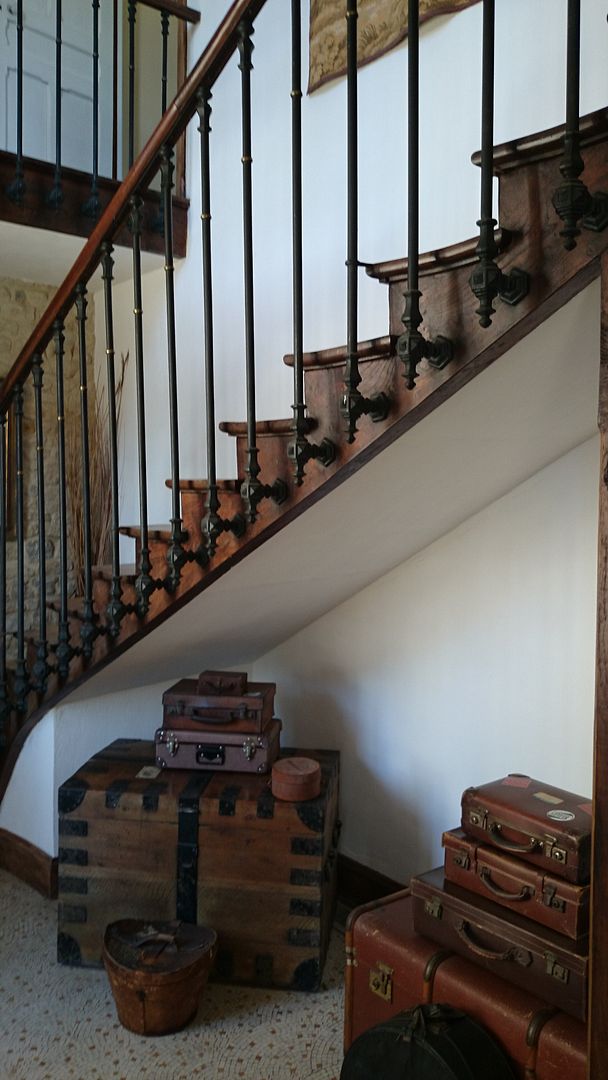 The owners had offered to take down the curtains hanging at the enormous windows in their own 'chambre' and allowed us to photograph our own curtains in their place - and, even then, the curtains pooled deliciously on the floor!
So.............. being listed tonight are possibly the most regal pair of drapes I have ever found; and if anyone has any enquiries about La Manoir de la Maillardiere itself which is situated in the small village of Ste Marie du Mont here in Normandie, I will happily pass them on to the current owners.
A la prochaine mes belles
xxxx