We are snowed in yet again and its freezing cold. But with old Hercule the wood burning cuisiniere on full blast its quite cosy tucked away inside. I start my Ebay listings tonight so have been photographing my latest finds.
The waxed orange blossoms in this 19th century wedding tiara instantly made me think of summer................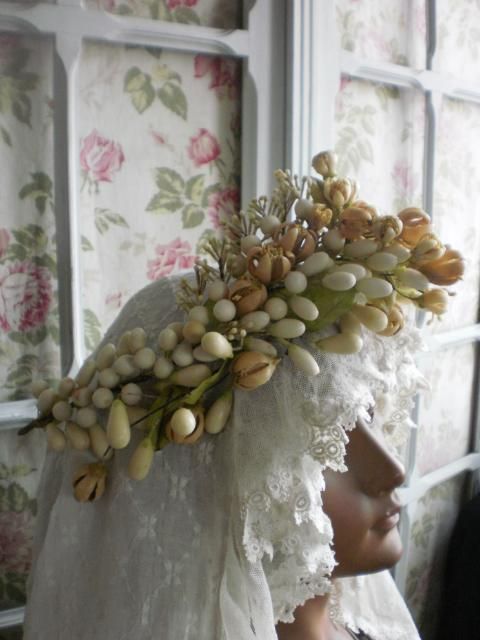 I found it a few weeks ago tucked into its original box wrapped in an old foxed lace trimmed handkerchief. The handkerchief has a beautiful hand embroidered name Louise. I wonder who she was and who she married all those years ago?
When we woke this morning and saw the blizzard of snow we knew we`d be trapped again! Charles who is the most bizarre cat loves the rain and snow so I wasn`t too worried when he mewed at the cuisine door to go out. I assumed the heavy snow would mean no hunters today but I was wrong. Three men right at the bottom of the garden shooting anything that moved.
With visibility so bad and Charles too much the colour of a fox we soon had him back inside much to his disgust. He has had to spend his day watching the blue tits on the windowsill and wishing.
I have baked a loaf, made chocolate and cranberry cookies, the house is bedecked for Christmas and the presents are wrapped.
LET ME OUT..................................cabin fever on the way.....................