I have severe, some might say, 'incurable brocantitis'! Unfortunately, during the winter there are very few flea markets and street brocantes here in rural Normandie. I suffer from withdrawal symptoms and often experience a very bad bout of this incurable illness!
Yesterday morning was one of the rare occasions when there actually was a street brocante advertised. We were up at 6am and, after scraping the ice from the car, off into the darkness we went, excited with expectation of what I might truffle. We met the 'Frou Frous' on the way and travelled in one car. Well....some of us travelled; others in the car slept! As the dawn broke the countryside looked beautiful caked in white with thick frost.
We arrived at the town some 45 minutes later only to be met with what was the aftermath of the town's annual carnival weekend. We initially had no idea what had been happening - driving through roads strewn with the debris of streamers, confetti, and litter - and passing a few stragglers from the night before looking much the worse for wear.
Approaching the town square, I saw many vans parked up on both sides of the street. However, as we drew closer I noticed that they seemed to be up packing and not unloading. I then realised they were not brocanteurs at all; they were catering vans from the night before. A quick word with the locals confirmed that the brocante had been cancelled that weekend because of the carnival! I was desolate!!
Despite being one to make the best of things, even I was struggling with this one as the rising sun started to light up the town! Frou Frou just groaned, pulled her hat over her eyes, curled up again in a ball on the back seat and went back to sleep!
We had no alternative but to turn around and return home. Driving along and still reeling with disappointment I remembered that, several years ago at a textile fair, a charming French lady had given me her card saying she might have a couple things I might like. I didn`t think she lived too far away so I truffled out the card and gave her a call not really holding out much hope. To my delight, Madame said that she would love tosee us if we made our way over to her house.
Stopping briefly for hot chocoalte and croissants amandes I started feeling a little more hopeful - and we resumed our journey.
We arrived at a tiny village and found that her shop was tucked away at the back of a delicious old borgeoise house.
The shop was brimming with small treasures and jewellery confections; things were looking up. I then spotted the stairs in the corner and made my way up into the attic. And what I saw at the top of the stairs simply took my breath away!!! It was full, floor to ceiling, with period textiles, trims, costumes, ribbons. Madame....you might have a "COUPLE" things I might want?!!!
You can see what I mean below; the pics. enlarge by clicking on them!
I put my head over the bannister and told everyone quite calmly, " you might want to come up here".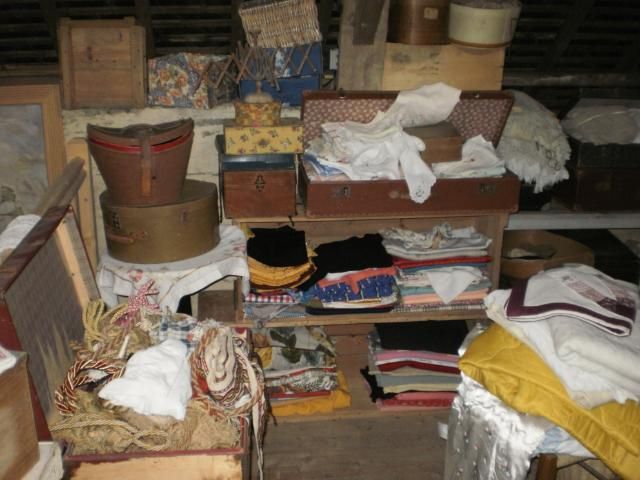 So..... to cut a long story short.... we spent a few hours like truffle pigs in a forest. I had my snout in every box and we filled the car to the brim.
Here are just a tiny few of the treasures I bought home. I didn`t really get to look at Frou Frous finds as her boxes were already filled to the brim and in the boot by the time I got back to the car!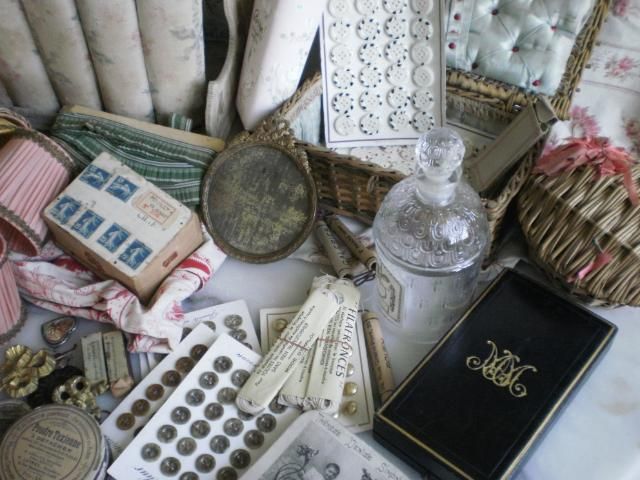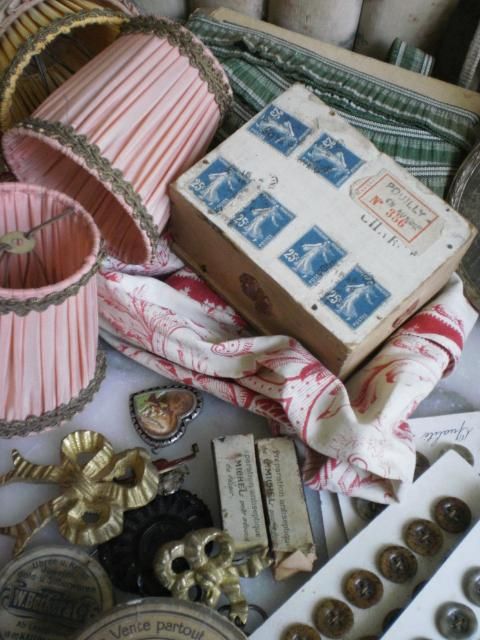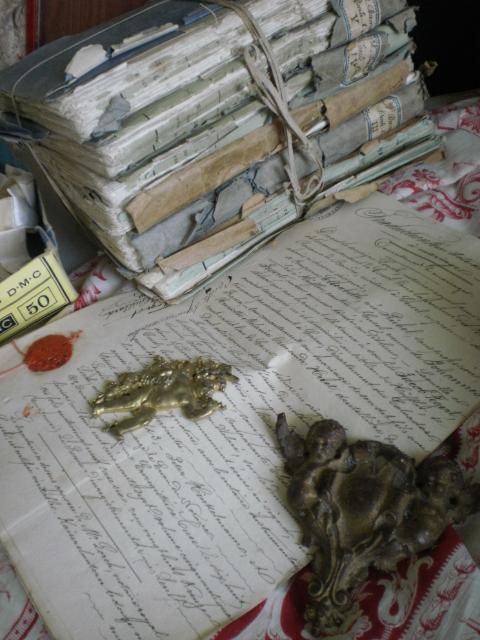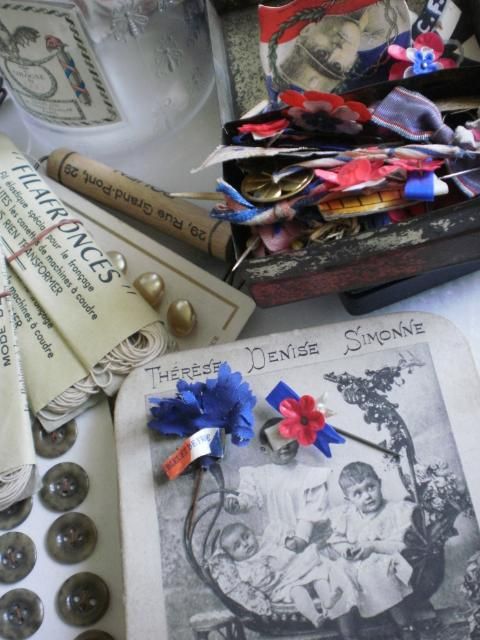 No street brocante? Who cares?!!! This place has been literally under my nose for all these years and it had never been truffled!! Well.....now it has!
A la prochaine mes belles...........