As our renovation continues we had been putting off our decision on what to do about a fireplace in the new sitting room. Rustique old stone or something a little more grand? It simply had to be right as it will be the main focal point for the room. All I knew is that it had to be floor to ceiling - and it has to look as if it has always been here.
I have trawled through back issues of virtually every interiors magazine I could find, have stood and looked at the blank wall where it will be from every angle - and have looked at every fireplace in every cafe and restaurant for miles around!!!! It was getting to the point where if a choice was not made soon the work would be held up....................but then we saw what we had been looking for !!!
Whilst out truffling recently at a brocante we found an old fireplace propped up against a wall almost hidden under a layer of dust. A huge old treasure that had been removed from a manoir some years ago. We brushed away the dust and as it revealed itself we knew that if we walked away without buying it we would regret it. How many times have I walked away from an old treasure only to still talk about it and ponder 'I wished I had bought it'!
The gesso on the fireplace we had found carries old gilded cherubs and dolphins.................
........some amazing carved and painted faces....
.....and winged cherubs on the pillars.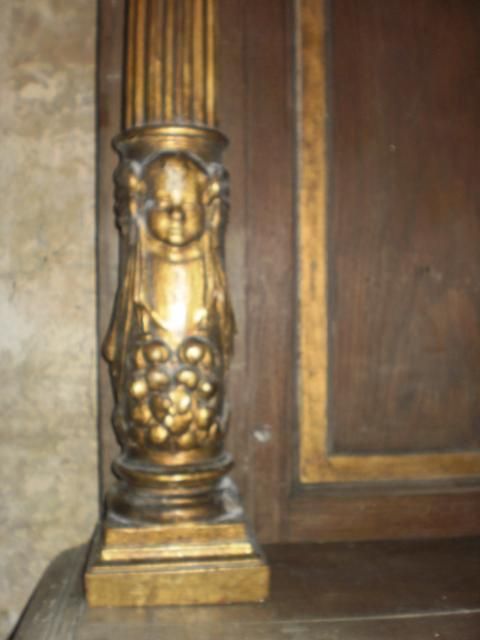 There is room on the back panel for a gilt mirror and perhaps lustre sconces on either side. It is going to sit against a wall with old pale lime plaster so, hopefully, it is going to blend in with the room.
Did we make the right choice? I hope so!!!