About two years ago, whilst truffling at an early morning brocante, Mark picked up a dirty silver-plated goblet with an inscription in English. I told him I didn`t really want it because not only was it only silver plate but the inscription was dated in the 1950s. I was also just heading into a bag of scrummy textiles and couldn`t even get slightly excited by his " mantique".
But when we got back to the car there it was. He had bought it - and was quite proud of it. (He's never really got the hang of old textiles!) Unloading at home I stashed it away in an armoire - and that is where it has stayed until very recently. When I have opened the armoire it has waved at me a couple of times asking to be photographed and listed, but I have always told it not to be so stupid and to sit down and get to the back of the shelf!
With the new studio and office finally completed and decorated I have been trying to get into some kind of order - not easy when I get distracted by every bag or box I open. But when the goblet jumped up at me again I decided enough was enough; the time had come for him to go as he certainly wasn`t going to make it into the new building.
I took him downstairs and started to polish him. He cleaned very easily......too easily in fact, I thought, for old silver plate. So, I cleaned a little more, tasted it with the tip of my tongue - ( yes, I know what you're thinking, but you can tell the difference between silver and silver plate by taste....well I can anyway!) - and I decided it must actually be silver. He certainly looked superb when all the black had gone!
I searched all over with my eyeglass and I could see nothing - no mark anywhere to be seen. But I was convinced it was silver and wondered that if perhaps the synagogue members ( referred to on the inscription) had had the goblet made in some foreign shores then there would perhaps not be a hallmark anyway.
So I have listed it as silver but asked my good friend Tony, also a 'brocanteur' and author to give it the once over to see if he thought it was silver too. He glanced at it and instantly remarked, "yes it is.... date around 1860 and made in London". I asked if he had ESP but he laughed and pointed out a large full English hallmark right at the top of the goblet within the design! Well..............how was I to know it would be so prominent when I was looking for secret markings!! Even the maker`s mark was clear to see.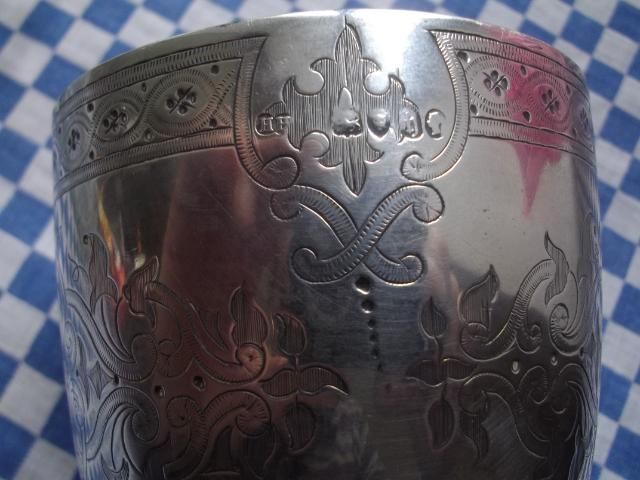 Sooooooooo............. Mark, mon cheri, mon amour, mon lapin chaud, I promise to pay more attention to your truffling finds in future.
Perhaps I should stay in bed on brocante mornings and send you truffling alone with the encouragement , "Go.....find me beautiful things" and then I could turn over and go back to sleep?
But perhaps not..........I will leave you with this quote...
I love being married. It's so great to find that one special person you want to annoy for the rest of your life. ~Rita Rudner