I awoke this morning to find that the French father Christmas "Pere Noel" had arrived and had left me three cows in the garden! They had somehow managed to leave the marsh and find their way onto the lawn. At first I thought they must be the special Normandie catapulting cows who can leap over hedges or perhaps they were part of the Olympic French cow vaulting team. Then I saw that someone had left the marsh gates open, all of the cows had entered the lane and three had wandered up our driveway! They stayed there quite happily until the farmer and his dog came to herd them away!
But then the yellow La Poste van arrived amid the chaos with two huge parcels for me.
I had no idea what they were as I wasn`t expecting anything. I thought that Charles le Baron du Breuil had been up to his tricks internet shopping again.........................
But no..............my dear friend Tartelette had sent me some special treasures..... just for me........Pere Noel had most definately arrived............
Two boxes brimming with divine trouvailles..........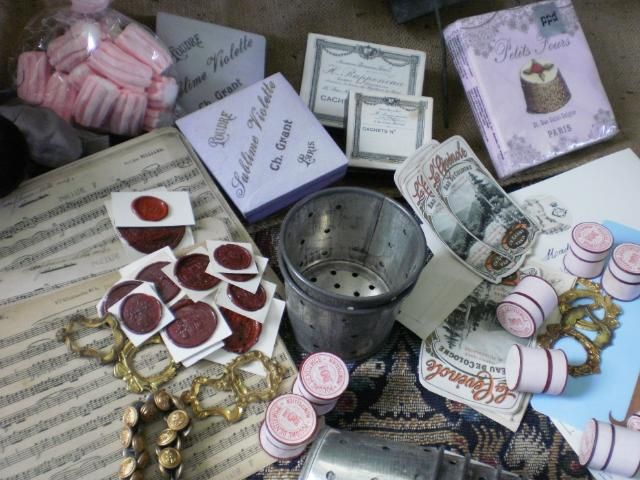 And thats just a snippet of the treasures that lay within! At the bottom of the box was the most amazing Rachael Ashwell bathmat with a crown...I forbid anyone to stand on it!!! As for the three blouses she had chosen for me....wooooooooooooo .....she knows me too well...divine just divine!!!!
Tartelette was my very first Ebay customer over ten years ago. We got to know each other so well she is now part of the family! She first came to stay and shop a couple of years ago and I arranged to meet her from the train in Carentan. The Paris train arrived but no sign of her. We ran up and down the platform and scanned the carraiges just in case she had fallen asleep on the journey but no sign of her. When I called her mobile she told me she was inside the station on the other side of the track. Instead of getting off the train on the platform side she had got down onto the tracks with her bags, crossed the tracks and hauled herself up onto the opposite platform!!! If the fast train to Cherbourg had arrived at that time heaven knows what would have become of her!!
She is such a wonderful person with a wicked sense of humour but wow does she have a good eye for finding treasures! It`s a good job she lives in the States as we would be fighting at the brocantes for the same things!!!
Merci our preciousTartelette....we look forward to your visit in November....must get your attic bedroom finished by then!!!