I am still working my way through all the boxes of treasures from the attic clearance and came across this old Livret de Famille that was registered in 1887. I suppose it is a kind of census book for each family of that time. It states that it must be kept safe by the head of the family.
On opening it I realised it was a wonderful source of social history and it tells quite a tale.........................
Monsieur Jean Maire Hommet was born in the 10th arrondissiment in Paris in 1859 and he was a wine merchant.
Mademoiselle Blanche Eugenie Augot was born in 1868 at Issy and was listed as "without profession".
They married in 1887 when he was 28 years of age and she was 19 years old.
I started to read about their children and then realised how tragic this little old booklet really is.
Their first child BLANCHE AUGUSTINE was born in Paris 2 years after their wedding and all seems fine.
Their second child ALFRED LOUIS was born 10 months later on the 3rd Octobre 1890 later in Paris but died just 17 days later in Vitry Aux Loges in the Loire region.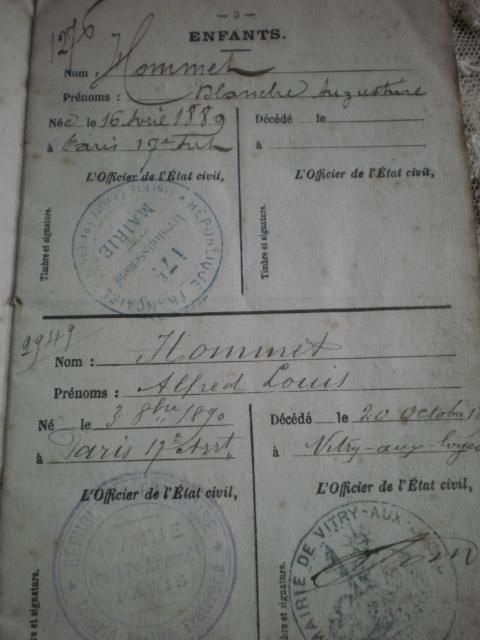 Their next child SUZANNE JOSEPHINE was born on 23rd Octobre 1892 in Paris and then their next JEAN LOUISE HENRIETTE was born on 16th August 1894 again in Paris.
JEAN LOUISE HENRIETTE died one month later in September 1894 followed by the death of SUZANNE JOSEPHINE aged 3 years in February 1895. Both deaths were registered at Vitry Aux Loges.
So from what I can gather at that point just one child remains BLANCHE AUGUSTINE.
The next birth was JEAN FRANCOIS HENRI born in Octobre 1895 followed by ANNA LOUISE in 1899.
At the age of 20 in 1915 JEAN FRANCOISE HENRI is registered as "MORT POUR LA FRANCE" Died for France ...so he must have been a soldier.
ANNA LOUISE died in 1983 at the age of 84 years in Yvelines.
And what happened to the parents?
JEAN MARIE died in Paris in 1930 aged 71 years and BLANCHE EUGENIE died 4 years later in 1934 in Paris aged 66.
So Anna Louise was the survivor and there is no record of what happened to the first born BLANCHE AUGUSTINE.
What I cannot understand is why each child was registered as being born in Paris yet the deaths were registered in Vitry Aux Loges which is in the Loire region near to Orleans. Did they have another home there and why return to Paris to register the birth of each new child?
I would love to find out more to piece the jigsaw together but where to start? How I would have loved to talk to Anna Louise to piece the mystery together.
I feel quite humbled to have turned the pages of time on this family history.
A demain mes belles........