I am not saying that the current gale lashing the chateau is bad - but Mary Poppins has just sailed past my window out of control with her umbrella and carpet bag flapping in the wind!!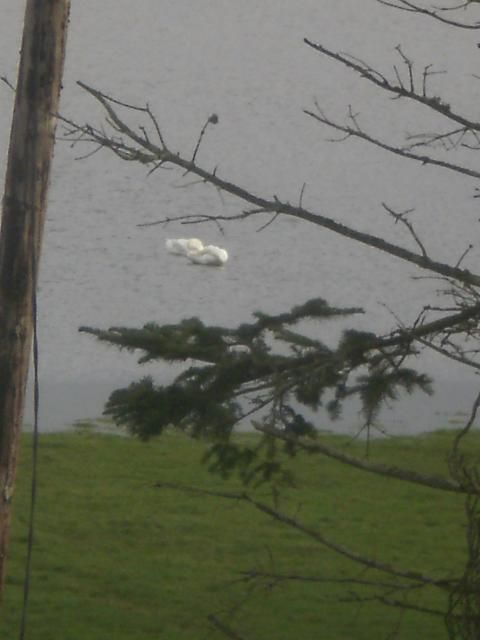 We are without a telephone landline for the second day and the poor swans floating on the marsh waters at the bottom of the garden have tucked their heads under their wings for protection.
George, our dragon weathervane girouette on the roof, is creaking and groaning, but as he has already survived 170 years atop the roof so far then this gale shouldn`t bother him at all!
The only good thing about such a gale is the wonderful draw we get from the vast stone chimney and Hercule blasts away like a furnace. As the day goes on and it gets warmer and warmer more and more clothing is discarded so, by the early evening, we could well end up naked and the Baron and Diggers will be unzipping their fur!
I must admit I always thought that that would be a wonderful bonus for cats and dogs to have a zip that runs along their stomachs which they could change for a different coats - kind of a one to wash one to wear thing! Smaller animals would of course have to have velcro; and I suppose and snakes and worms would have to wear patterned stockings.
Another thing I've thought about; does the male turtle get out of his shell and squeeze in with the female to mate? If that is the case he would have to be very careful where he parked his shell and what would he do if he came back and it was gone?
And...........if more than one mouse is "mice" why isn`t more than one house "hice"?
Lots of things to think about.
I have also been thinking about Di who writes that wonderful blog under YONKS.
http://yonksnews.blogspot.com/
She lives on a boat - but what if she has been washed out to sea and is now clinging to a boy ( No...I haven`t mis-spelt that one!!)
I think I must be suffering from marsh fever...............the isolation......the howling gale...........the lack of chocolat ( it has all been eaten over Christmas)....the lack of brocantes in the Winter ( now we're getting nearer to the truth!)
I think my brocantitis is breaking out again and there is no cure until the Spring village vide greniers, flea markets and brocantes which start again in April.
Perhaps it would be safer if I didn`t think at all!!!